Cyber Security Services
Company Data Security Solutions for your Dallas business
Does affordable protection from the dangers of hackers, malware, and viruses seem beyond your reach? What if you had to face the consequences of an internal threat due to lost USB drives and laptops?
With Cyber Security solutions that reduce risk, safeguarding your business has never been easier. Our comprehensive Wireless Network Security and Virus Removal services protect all you've worked for.
Computer Cyber Security Services From Trif Technologies Include:
Hazard Detection
A defense against hackers, predators, and other online threats, including ransomware protection services
Susceptibility Disclosure
Our experts can pinpoint the flaws in your system and design a strategy to resolve them

Spam and Virus Control

Guard against malware and spyware

Secure Access Preferences

Like encryption, passwords, and virtual private networks
Cloud Computing Data Security Solutions for Small Businesses
Cybercriminals can make a good living out of your hard-earned data. That's why computer data security is a process worth investing in. Discover the wide range of solutions we offer for your business's digital protection.
When transferring and accessing data, every business needs comprehensive Cyber Security measures, regardless of its size. However, Trif Tech is proud to offer essential solutions that benefit small businesses.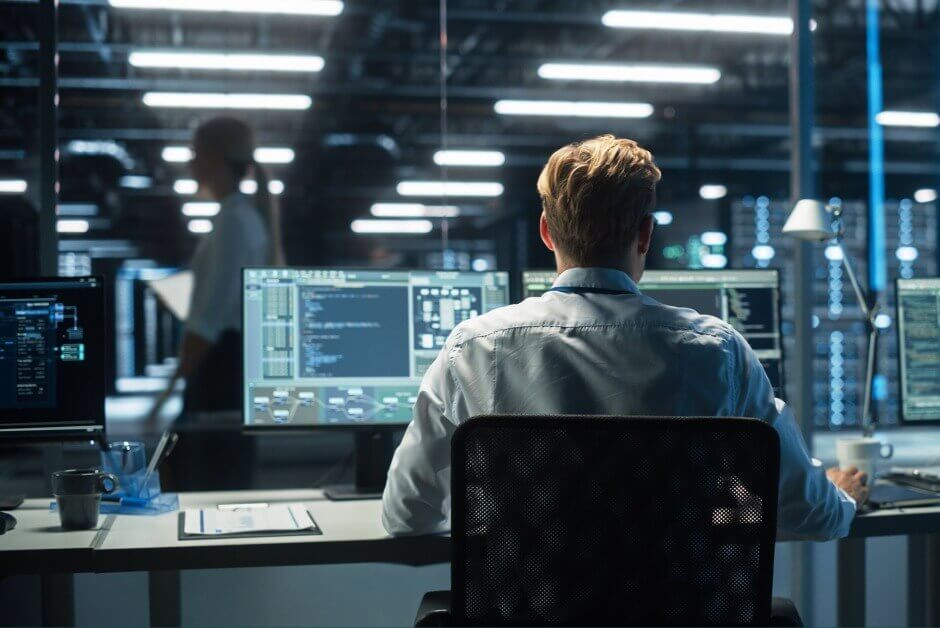 Cyber Security Solutions for Small Businesses
Data Security Management
Many cybercriminals target small businesses believing that they do not invest in Cyber Security precautions. Ensure that your data remains protected against unauthorized access and take the target off your back.
Internet Security
This branch of security involves protecting your business's valuable data that you store and transfer online. Connect with our experts to determine the relevant strategies for guarding your internet transactions.
Network and Data Security
Computer networks need protection against threats to maintain an infrastructure's usability and integrity. Our security specialists will show you how to transport company data without vulnerability.
PC Protection
Protecting data demands that your business computers have the necessary software and hardware defenses against cyber threats. Ensure that your sensitive information is safe and worry less about the threat of losing data.
Spyware Protection
Many cybercriminals are creative when obtaining information illegally through covert means. Safeguard your data from getting transmitted elsewhere without your knowledge by having a dedicated Cyber Security service.
Computer Data Security
Security breaches to your computer can alter your data. This can cause significant long-term damage or an outright loss of vital data, leaving you with nothing but regret. Protect your corporate data assets from being at risk with a tailored solution.
Wireless Network Security
You never know when a cybercriminal will target and attack your small business for the valuable data you store. Let our defense team equip your operations with security controls that you can manage in real time.
Virus Removal
Have you been putting off security services for a while? Or maybe you suspect that criminals have compromised your data. Call us today for a system assessment. Trif Tech is ready to remedy your situation.
Why Small Businesses Need
Comprehensive Computer Data Security Services
As a small business owner, you may have convinced yourself that you can do without managed security services. Perhaps you believe that your company's size makes it an unlikely target for cybercrime. However, criminals rely on that mindset. It makes it easier for them to hack your system and puts you at a greater risk for data breaches.
At Trif Tech, we believe that businesses of every size must implement measures to protect sensitive data. As such, we customize solutions according to your business's needs and budget. A personalized information security solution suited to your organizational needs allows you to rest assured that your data is safe.
Let our data encryption specialists assess your current system and establish access controls that align with your goals!
Local Cyber Security Company
Trif Technologies' security strategies provide an affordable solution custom fit just for your unique business. We provide Wireless Network Security solutions with a predictable monthly cost to simplify your budget.
Our local IT consultants provide trusted MSP services to small business owners in the Dallas/Fort Worth Metroplex including:
Frisco
Richardson
Addison
Coppell
Farmers Branch
Ft. Worth
Defending your business systems and precious data is a vital necessity. Secure your business with a Virus Removal, Spam Prevention, and Computer Data Security strategy that you can afford.
Along with IT consulting and IT outsourcing, we also provide comprehensive managed services. The team at our service desk monitors your network 24/7/365, provides timely assistance, and is available for maintenance when needed. The managed service provider (MSP) team will also provide you with monthly reports on the performance of your network.